Employee of the Month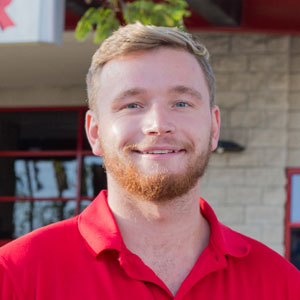 Lee Bruemmer
Sales and Marketing Lead
Aztec Recreation is proud to introduce our November Employee of the Month, Lee Bruemmer! Lee is the Sales and Marketing Lead and has worked for Aztec Recreation since August 2017.
Among the marketing team, Lee is known for his humor, kindness and dedication to his work. His supervisor, Aztec Recreation Marketing Coordinator, Amy Schiller, says that he approaches his job with contagious energy and enthusiasm. "Saying that Lee is a people-person would be an understatement," says Schiller. She also notes that he has great insight into the art of selling, he is creative in his approach to problem solving and very good at building a solid team, "I appreciate Lee's insights in recruiting, hiring and training the new marketing staff."
After one year as a Sales Representative, Lee was promoted to his current position where he oversees a team of student employees. Lee's favorite part of his job is the amount of time he gets to spend around people, "I've learned a lot from our team members who are students studying everything from film and graphic design to communications and business. Plus being out on campus and representing Aztec Recreation while getting to know new people is a huge perk."
According to Lee, there is no "typical" day on the job. Depending on the season, he and the marketing team could be on campus assisting with outreach or engaged in collaborative planning and hosting events like ARC 'til DARK and Live Well Late Night events. His favorite memories are emcee at the big events like Lights Out Strike Out at Aztec Lanes, "by the end everyone was just dancing and singing and having a great time," said Bruemmer.
Through his work at A.S., Lee has gained experience with planning and organization tools as well as how to adapt as a leader. He is a member of the Associated Students Aztec Recreation Lead Professional Development program where he regularly connects and shares successes with other Aztec Recreation student leaders. Whether he is helping to coordinate events or working with the marketing team to develop social media strategies, he enjoys being able to learn from those around him. In the office, Lee believes, "Who you are with is just as important as where you are and what you're doing."
Lee is graduating this spring with a degree in Management and a minor in Spanish. Lee is a huge fan of Aztec Recreation both at work and play. He is a regular on the basketball courts, in the weight rooms and plays in numerous intramural sports leagues with his basketball friends and fraternity brothers. Following graduation, Lee's goal is to work in a collegiate athletic department or in the front office of a professional sports organization.
Associated Students thanks Lee for his continuous efforts to create exceptional experiences at Aztec Recreation.