Employee of the Month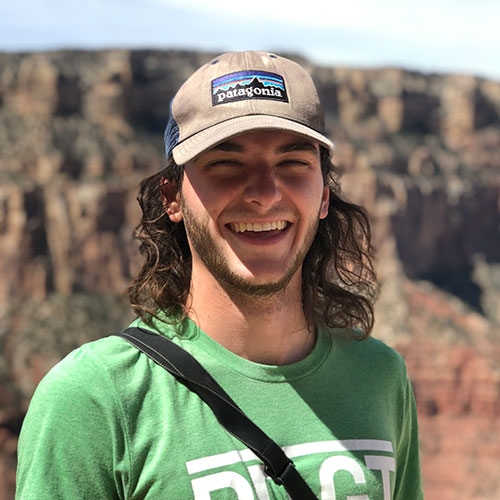 Colin Bryant
Aztec Adventures Climbing Wall Lead
This month Aztec Recreation is proud to recognize an outstanding student employee who is also a member of the SDSU Class of 2020; Colin Byant, Aztec Adventures Climbing Wall Lead. Colin started in August 2018 as a climbing wall attendant and a year later he was promoted to his current position with responsibilities including staff supervision, educating and outdoor leadership.
Colin's favorite aspect of the job is educating and the ARC Wall abounds in opportunities for it! Colin takes every opportunity he can to share his vast knowledge and taught daily orientations, credit class instruction and even found opportunities in daily interactions with members at the wall. He says, "My favorite part of the job is being able to teach students new skills that they can apply in their climbing or in an emergency situation in the backcountry." As a climbing credit class instructor, Colin has helped the department and his students make the transition to virtual credit class instruction. His supervisor, Katie Hecker, Outdoor Programs Supervisor, says, "Colin seamlessly transitioned the instruction of our Wilderness First Aid course to the virtual classroom."
Colin is also helping do research to help the Aztec Recreation team in preparation for re-opening. Hecker says, "Colin is staying current on all Covid-19 indoor climbing best practices. He is helping to guide our success for re-opening by updating our cleaning procedures and distancing protocols."
Colin's goal is to become a world class mountain guide and he says his work with Aztec Adventures is an exact match for his career and he found it also broadened his perspective of opportunities in his chosen field. He will be graduating this May with a degree in Recreation Administration with an emphasis in Outdoor Resource Management and says, "This is just the beginning of the path and it already feels like I'm working my ideal job. Working for A.S. I have learned what it takes to educate, lead trips and manage a staff by organizing schedules, staff training, and delegating tasks."
Colin's favorite quote is, "Don't compare yourself to others, compare yourself to who you were yesterday." Thank you, Colin, for your dedication and professionalism.