Employee of the Month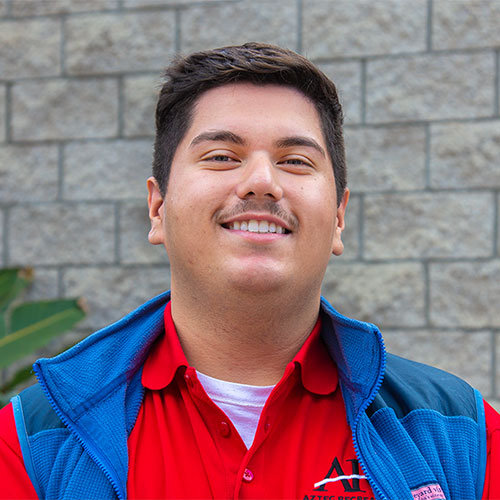 Adrien Cortizo
Competitive Sports
Happy April, Aztec Recreation! We are excited to introduce our April 2019 employee of the month, Adrien Cortizo! Adrien is a Lead Supervisor in Competitive Sports and has been a key team member since his sophomore year at SDSU.
Three years ago, Adrien was hired as an Intramural Sports official and has worked his way up in the department. A natural leader, Adrien is known for his relationships with both peers and players. His supervisors, Parker Anderson and DeJuan Benford, applaud his dedication to safety and policy as well as his teamwork mentality, "He is a leader amongst his peers, always encouraging staff to work hard and improve their abilities. He is known for his positive attitude, witty personality, keeping everyone relaxed and allowing the program to be a fun work environment."
Growing up as a three-sport athlete, sports play a huge role in Adrien's life. He enjoys that he has been able to pair his passion with his work here at Aztec Recreation. Some of his fondest memories include helping his co-workers, who are also usually former high school athletes, transition into becoming well-rounded officials who enjoy the game. "Nothing gratifies me more than working with people who are passionate about sports the way I am," says Cortizo. Fond memories for Adrien also include his first year when he was named Aztec Recreation Official of the Year. In his second and third years, Adrien earned opportunities to represent Aztec Recreation as an official at major regional events.
A current senior studying Business Management with a concentration in entrepreneurship, Adrien says "Over the last 2 years at Aztec Recreation, I've been given many responsibilities that will have a lasting impact on my professional growth. Aztec Recreation has taught me both how to lead and how to listen. I have learned the importance of time management, proper scheduling, and effective communication."
Adrien now looks forward to his post-grad future; he plans on moving back to his roots on the East Coast and attending culinary school. Adrien's goal is to own a restaurant in New York City, "My life-long goal is to successfully open and manage my own restaurant."
Employees like Adrien are what make our programs so great. Thank you for all your time and dedication, Adrien. Congrats!