Employee of the Month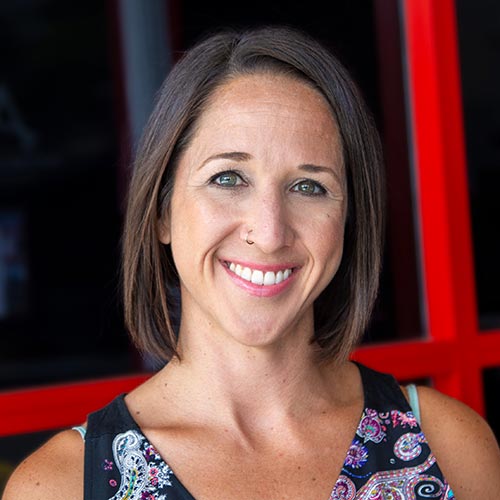 Theresa Perales
Group Fitness Instructor
For August, we would like to recognize Theresa Perales, Aztec Recreation Group Fitness instructor. Working with Aztec Recreation since 2014, she has continually developed as an instructor seeking training in a variety of group exercise formats and getting new certifications. This summer, Theresa began leading the Strength Training for Women Group Fitness class. According to Fitness and Wellness Program Assistant, Cali Tolbert, "Theresa goes above and beyond in creating an environment where participants feel connected to and supported by each other. She does this by developing the workouts to include team challenges and themes to enhance her participants' experience."
The women's strength training class takes place in the Performance Center located in the Peterson Gym 196. Perales finds the women's strength training class very rewarding. She enjoys the opportunity to help women feel comfortable using Olympic lifting equipment – which takes some of the participants into a new comfort zone – as well as helping the participants develop their strength training skills. Theresa enjoys watching the progression of her students improve their form and develop strength. She says that this type of progress is one of her favorite aspects of being an instructor.
Theresa takes her passion for teaching fitness beyond the typical group class, too. As a program director for American Language Institute (ALI) here on campus, she developed one of the most in-demand electives among ALI students: "English Through Exercise". In this class, Perales teaches international students words and terminology from kettle bells to quadriceps with a focus on both anatomy and the terminology of exercise here in the U.S. She says, "I love working with international students because of their eagerness to learn both language and culture."
Perales has also been instrumental in mentoring for the Aztec Recreation ENS GFIT class. GFIT is a one-unit credit class that trains SDSU students in the basic skills to become a group exercise instructor and provides preparation for the ACE group fitness instructor certification exam. Perales mentors future instructors in group cycling through coaching on all aspects of the class including warm-ups, building profiles for a class, selecting music and developing choreography. She said one of her favorite aspects of mentoring is to help future instructors find their own style as teacher.
Theresa is able to make fitness experience personal - whether it's modifying an exercise for a beginner, teaching fitness concepts to an international student or coaching a future instructor. Theresa walks the talk when it comes to teaching Group Fitness classes. Theresa, thank you for all you do for Aztec Recreation!