Employee of the Month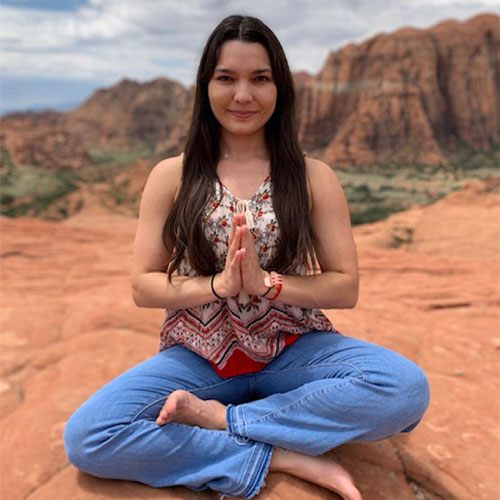 Cindy Fifield
Group Fitness Instructor
Aztec Recreation would like to recognize Group Fitness Instructor Cindy Fifield as our Employee of the Month for August 2019. Cindy represents the very best our group exercise program has to offer. Cindy is a yoga instructor who creates an outstanding experience for members at each class.
Cindy grew her love of yoga while earning her degree in communications and taking group fitness classes here at Aztec Recreation and she was excited to return to teach at her alma mater as a yoga instructor over a year ago. According to her supervisor, Cali Tolbert, Fitness & Wellness Coordinator, "Cindy carefully develops her weekly classes to reward frequent attendance while welcoming new practitioners. In addition, she has introduced and inspired many new participants to yoga at a variety of special events held outside the ARC each year."
Cindy's favorite time of the year is the beginning of the Fall semester, she says there is wonderful, happy and exciting energy from all the students. Her favorite memory is teaching a late yoga class at a special event and some of the students that attended came back during the semester to seek out her class to take again! She enjoys being able to introduce yoga as a way to relax, re-energize and destress for many students and enlighten them on the health and wellness practices that she embodies.
Cindy's motto is "Defend your light with your life", a quote from Will Smith that speaks to never giving up on a dream and don't let anyone tell you that you can't.
Cindy exemplifies the Aztec Recreation mission of inspiring active, healthy living and enhancing the SDSU experience with her passion to teach and share yoga and holistic wellness. Through her positive experience teaching yoga here, and working with her supportive and encouraging coworkers and supervisors, she has decided to obtain her master's degree in integrative health and continue to develop as a health and wellness professional.
Congratulations, Cindy. Thank you for your outstanding contribution to Aztec Recreation!