Employee of the Month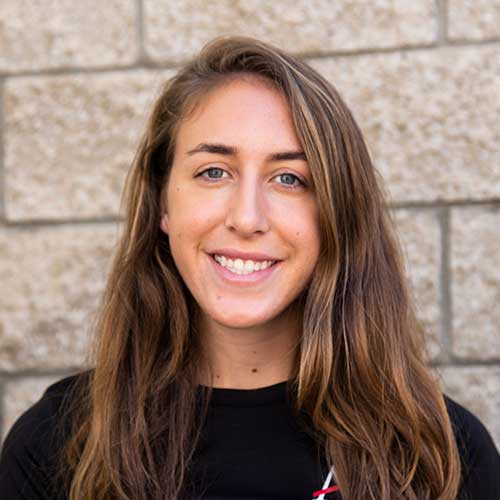 Kylie Metkiff
Building Services Assistant
Aztec Recreation recognizes Kylie Metkiff as our February Employee of the Month! Kylie is a third-year Environmental Engineering student at San Diego State and she is a great asset to our department as a Building Services Assistant.
Aztec Recreation Building Services work provides excellent opportunities for SDSU engineering students to gain hands-on experience with machinery and mechanisms. Kylie says, "Aztec Recreation has helped me prepare for entering the workforce with hands-on experience on a variety of machines. Specific parts are talked about in classes I attend at SDSU and then I get to observe how they operate as part of a larger machine. The best part is that I also get to repair machines and that is very fulfilling for a future engineer."
Kylie's job varies from day to day. Her duties include performing preventive maintenance on equipment and machinery as well as responding to maintenance requests, including changing lights or stabilizing cardio machines.
Her favorite aspect of her job is that most days include a new challenge or problem to solve. A quote that resonates with Kylie is one from Nelson Mandela, "It always seems impossible until it's done." Kylie is a firm believer that, while there are always going to be obstacles and challenges, there "will always be a way to solve it."
Mack Posey, Building Engineer, says, "Kylie is a hard worker. She is very professional and creates a good experience for our members and her fellow building services team. Kylie is always interested to learn new skills and once she learns a task, she can independently complete the task with little or no supervision."
On campus, Kylie is also involved in Alpha Gamma Delta, a Panhellenic sorority, as well as Tau Beta Pi, the SDSU engineering honors society. Balancing work, school and extracurriculars can be difficult, but Kylie's focus, dedication and professionalism allows her to succeed.
Thank you Kylie for being an amazing addition to the Building Services team. Congrats!