Employee of the Month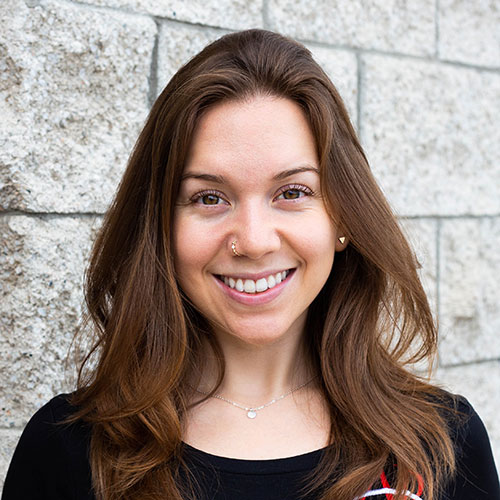 Aztec Recreation is proud to ring in the new year announcing Grace Gama as our January 2020 Employee of the Month! Grace has worked for Aztec Recreation since 2018, starting as a Fitness Instructor for our Group Fitness program. She continues to teach classes and was promoted in June 2019 to Fitness and Wellness Program Assistant as well as an ENS instructor.
During her junior year studying Nutritional Science at SDSU, Grace participated in the Group Fitness Instructor Training (GFIT) ENS credit class. She then pursued her ACE Group fitness instructor certification and was hired soon after to the Aztec Recreation team. Now pursuing her masters degree in Kinesiology with an emphasis in Integrative Wellness at Point Loma Nazarene University, Grace continues to enjoy the opportunity to keep SDSU students active and learning about fitness and well-being. In the role of Fitness and Wellness Program Assistant, Grace is involved in all aspects of maintaining the ARC's awesome Group Fitness programs, helping plan and run the Fitness Jam and Fitness Fridays, and diversifying wellness opportunities for students and members.
Grace's favorite part of her job is educating others. "I enjoy watching my students gain confidence in the gym setting, which I believe translates into a positive lifestyle, increases confidence and enables them to be more independent," Grace said. "I also love working with my team and with other departments here at the ARC such as marketing and membership services."
Grace's supervisor, Fitness and Wellness Coordinator, Cali Tolbert, applauds Grace for her outstanding work ethic, professionalism and dedication to her students. "Grace provides excellent customer service to our members and her professionalism and attitude are infectious," Tolbert said. "She creates valuable connections with participants in her ENS courses and Group Fitness classes, as well as with fellow instructors."
Grace follows the personal motto "Nothing will work unless you do," which is evident in her exceptional work ethic.
Outside of work, and when she is not studying, Grace enjoys staying active, spending time with friends & family, and is passionate about lifestyle and wellness. She is also a chair member of the Lifestyle Medicine Interest Group at PLNU.
Aztec Recreation is lucky to have such a dedicated and passionate employee. Thank you and congrats, Grace!