Employee of the Month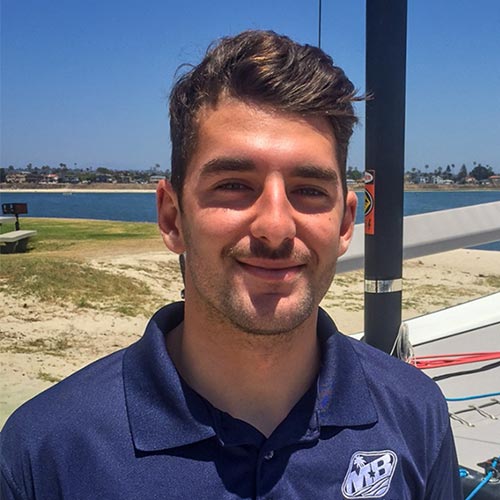 Max Maller
Sailing Program Assistant, Mission Bay Aquatic Center
Aztec Recreation would like to recognize Max Maller, Sailing Program Assistant at Mission Bay Aquatic Center, as our July Employee of the Month! Max has been involved with the Mission Bay Aquatic Center for over 10 years, first starting as a camper and progressively becoming more and more involved. He steadily rose from a camper to a Counselor in Training (CIT), to eventually becoming hired as a camp counselor before joining the sailing department and becoming the program assistant. From the words of his supervisor, Paul Lang, "Max's hard work and drive to improve our sailing program has positively impacted a lot of our staff as well as our students, and he is greatly appreciated at MBAC."
When talking about his experience working at the Mission Bay Aquatic Center, Max describes how great his job is and the amazing the people he gets to be around every day. He appreciates how friendly and helpful all his supervisors are, making it enjoyable to come to work every day. Max's average day is very rewarding because although it includes some office hours, he is still able to get out, check on other instructors and help them or even step in to teach a class, which he really enjoys doing.
Max describes the most valuable skill learned from his time working at Mission Bay Aquatic Center as the ability to present in front of people. When he first starting working here, he was very uncomfortable talking in front of groups of people, and he especially had a hard time sounding confident even if he knew what he was saying. Now he has confidence to address any group of people without hesitation. When assigned to oversee an event with one-hundred and twenty naval officers he was comfortable leading the group through all of the activities as the main instructor. He attributes his confidence to the experience he has been able to gain working at the Mission Bay Aquatic Center.
Max has become a vital part of the Mission Bay Aquatic Center staff and does a great job making sure all the sailing instructors work balanced schedules and are able to teach many different topics of sailing. His supervisor also adds that Max "treats his co-workers and our students with the highest level or respect and always makes time to talk to customers who have questions about our program."
Max is a fourth-year economics major and plans on moving on from the Mission Bay Aquatic Center after he graduates to find a full-time job where he will be able to use what he has learned in school as well as apply the skills he has learned from working at the Mission Bay Aquatic Center. Max likes to live by a quote from Theodore Roosevelt that states, "Far and away the best prize life has to offer is to work hard at work worth doing." He explains that working for Mission Bay Aquatic Center has been extremely rewarding because every day he comes to work, he feels that it is indeed work worth doing.