Employee of the Month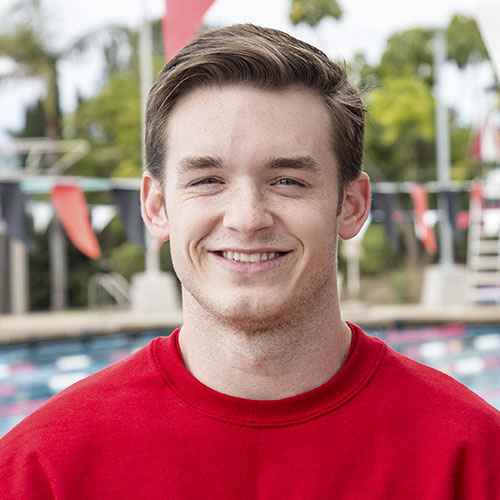 Dan Schmitz
Aquaplex Member Services Representative
To kick off the summer, we would like to recognize Dan Schmitz, Aquaplex Member Services Representative as our June Employee of the Month! According to Aquaplex Manager, Jake Siegfried, "Dan strives for excellence in everything he does and with almost three years of experience at the front desk, he is a tremendous asset to us here at the Aquaplex."
During the summer prior to starting at SDSU, Dan visited the ARC and a student employee toured him through the Aztec Recreation Center. That tour guide made him very excited to come to SDSU and now Schmitz thinks about that experience every time he gives a tour of the Aquaplex. In every customer service interaction, Dan's goal is to make people feel they have a personal connection to the Aquaplex and to SDSU.
When Schmitz started at SDSU and saw that Aztec Recreation was hiring, he applied straight away and got the job one month into his freshman year. He says that working for Aztec Recreation is one of his best things about his freshman year. He started with a large cohort group of student employees and now they are some of his close friends. He says, "There is an unspoken bond among coworkers. Working at the Aquaplex is a break from school and a chance to shift gears and focus on something enjoyable."
Dan is the kind of person everyone wants as a coworker! His motto this past semester was "I'LL DO IT." He regularly picked-up shifts and covered for other student staff whether they had conflicts or just needed to study. As a result, he was the employee with the largest number of transactions during the Spring 2018 semester and, he adds that it was also his best semester academically. He says that the more he applies himself, the greater his productivity.
Schmitz says that his job is all about the positive attitude and the work is "Simple, not easy." Which is how he describes his path to success. Dan's focus now is continuously recognizing and recommending small improvements to the administrative operation of the Aquaplex and he is mentoring new Aquaplex staff.
Dan is a fourth-year marketing major with a minor in graphic design and he has a passion for astral photography and digital art. As a man of many talents, his goal is to become an Air Liaison Officer in the Air Force. It's a future that will enable him to apply his initiative, professionalism and people skills.