Employee of the Month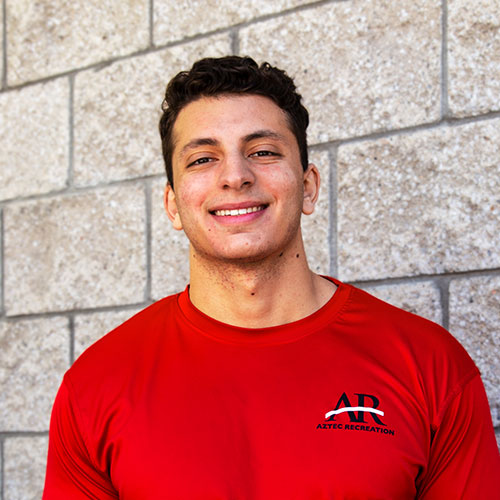 Fadi Essa
Member Services Representative
Aztec Recreation congratulates our March Employee of the Month, Fadi Essa! Fadi has worked as a Member Services representative since May of 2018 and we are recognizing him for his excellence in customer service, his eagerness to take on challenging projects and his confident, respectful attitude. Fadi has a passion for fitness and a goal to own a gym in the future. Working for the ARC Member Services is a natural fit for him. His goals and passion shine through each and every day.
As a Member Services representative, Fadi spends a good portion of his day problem solving and providing support to members. His supervisors, Katie Nelli and Vicki Greene, note, "Fadi works to solve problems independently, and is constantly asking for additional projects or tasks to help out". Something that is unique about Fadi is that he speaks fluent Arabic, which has been a great asset to our Arabic-speaking members. When reflecting on certain tasks, he says, "I believe that I have learned how to handle different situations in a wide variety. This is important to be able to satisfy our diverse customer needs."
Fadi's favorite memories from working at the ARC are the time he gets to spend with co-workers. From folding towels to annual holiday parties, Fadi enjoys the interaction with students and supervisors on the team. Nelli and Greene also recognize Fadi's friendliness and team-player mentality, "His confident and respectful demeanor aids in building relationships with members and peers."
Fadi not only thrives in his workplace but also in his academics and extracurricular activities. He is a volunteer for Aztec Dance Marathon, a member of Phi Kappa Psi and a Mechanical Engineering student here at SDSU. With so much on his plate, Fadi's life mantra is "go until failure and achieve success" which is fitting for his go-getter attitude.
Aztec Recreation is grateful to have a friendly and resourceful employee like Fadi, congratulations and thank you!