Employee of the Month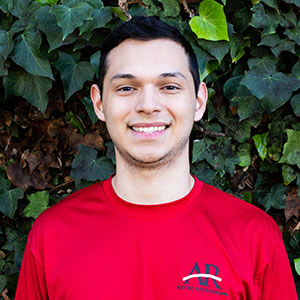 David Oyos
Member Services
Aztec Recreation is proud to introduce our March 2020 employee of the month, David Oyos! David joined the Aztec Recreation Member Services team in January 2019 and this month we would like to recognize him for his strong dedication to Aztec Recreation, outstanding problem solving skills and excellence in customer service.
With a consistent positive attitude, David happily takes on extra tasks when needed and demonstrates quality service to all members and guests. With his infectious demeanor and work ethic, David has impressed supervisor Katie Nelli. "David is an extremely hard worker and upholds a positive attitude in all situations," Nelli says.
Each day presents new scenarios and David has learned to adapt to every situation with confidence and professionalism. It is an aspect of the work that he enjoys very much. He lives by the motto, "Sometimes you need to run before you can walk," and looks at challenges as opportunities to get out of his comfort zone. David goes the extra mile to ensure safety and satisfaction for every member and guest, and does it with a smile.
Working for Associated Students Aztec Recreation has improved David's ability to interact with diverse participants and build relationships with them. "The most important skill I have gotten while working at the ARC is to be able to strike-up conversations with strangers," he explains. "Seeing regulars and building a relationship with them is one of the most rewarding parts of working here.".
David's strong relationship building skills are appreciated by his team as well as visitors. His favorite work experience was an all-staff meeting where he met all the program areas of Aztec Recreation. With a true team spirit, he is dedicating his success to the team. "None of this would be possible without my coworkers and supervisors being friendly and available to support me and everyone on this team," he said.
David's dedication to community shines through in his work ethic and passion to help others. Following graduation, David plans to pursue a career in law enforcement.
Aztec Recreation is grateful for such a dedicated and ambitious employee on our team. Congratulations, David!