Employee of the Month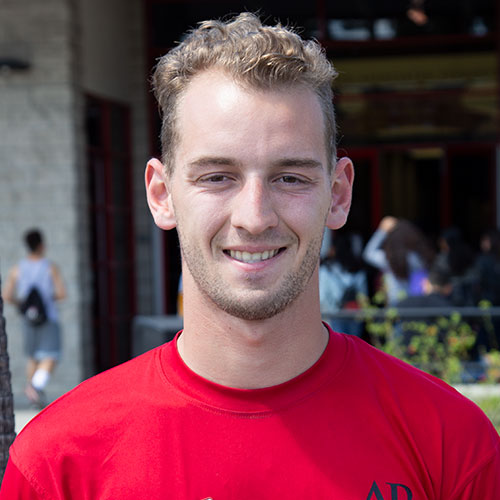 William Halpin
Aztec Adventures
Aztec Recreation is proud to recognize William Halpin, Aztec Adventures Outings Lead Supervisor, as the Employee of the Month for May. Will is currently a junior at SDSU studying Recreation and Tourism Management and has worked for Aztec Adventures for almost two years. According to his supervisor, Ben Ramaeker, Outdoor Programs Coordinator, "Will is passionate about connecting the campus community to the outdoors through his instruction, logistical coordination, and his mentorship in developing quality outdoor leaders."
Will started working for Aztec Adventures after taking the one unit Outdoor Skills and Leadership class culminating in his Wilderness First Aid Certification. Over the years he has lead numerous Aztec Adventure outings with diverse groups to a wide variety of destinations. Currently he teaches credit classes and leads outings in activities such as camping & hiking, wilderness first aid, backpacking and rock climbing.
Will's fondest memory while working for Aztec Adventures, was a trip to Yosemite, where he remembers sharing a sunrise with people who had never seen terrain quite like Yosemite before. Will says he loves to "share the stoke", his expression for the joy and excitement inspired by the great outdoors.
According to Ramaeker, "Will takes immense pride in Aztec Adventures programming and dedicates his time to mentor and teach new trip leader with the finer details associated with Aztec Adventures outings. He demonstrates great patience ensuring our staff are confidently making decisions in both the office and backcountry settings."
Will strives to improve his personal leadership and technical knowledge associated with the outdoor recreation industry. He is looking to pursue his Wilderness First Responder and Guide Certification professionally upon graduation and he continues to seek opportunities to improve his abilities and bring the knowledge he acquires back to the Aztec Adventures program.
Will's positive personality creates a welcoming environment for both student staff and participants. He loves everything about the outdoors and is an avid photographer and outdoor chef who can cook cinnamon rolls on a stove top! Will feels extremely lucky to share his passion through his job with Aztec Recreation.