Employee of the Month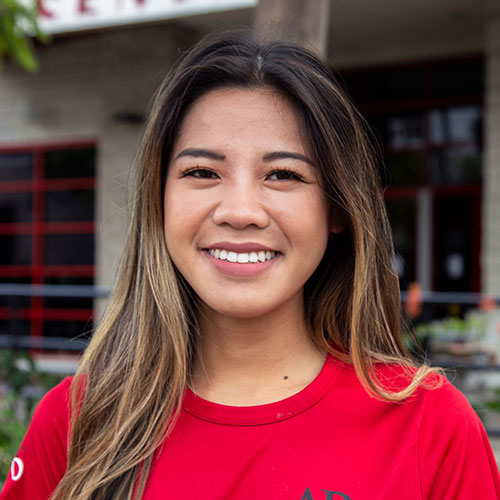 Congratulations to our November Employee of the Month, Bernadette Tan! Bernadette has worked as the Aztec Recreation Graphic Artist since June of 2017. In her time, she has impressed her colleagues with her professionalism and creativity.
Bernadette's Aztec Recreation story began when she was searching for an on-campus job and overheard fellow Graphic Design students talking about a position that had opened for the Aztec Recreation marketing team. She decided to apply and the rest is history. Almost a year and a half later, Bernadette has made over 50 unique graphic creations. According to her supervisor, Amy Schiller, "Bernadette has created numerous unique pieces including two ARC 'til DARK themes, Cozy Canteen, Love Your Body Week and several Live Well Aztecs promotions." Bernadette takes great pride in creating special event designs for Aztec Recreation. She loves seeing her art come to life while working these events and then later, seeing fellow students wearing her t-shirt designs.
Known for her professionalism and excellent work ethic, Bernadette attributes this mindset to a quote by the famous track athlete Steve Prefontaine, "to give anything less than your best is to sacrifice the gift". Bernadette surely does give her best, Schiller also notes that Bernadette is "a joy to work with as she has a great demeanor and is always very welcoming to peers and professional staff when working on graphics projects, regardless of project and timeline scope."
Due to her experience in Aztec Recreation, Bernadette now has a sense of what her future career in graphic design will look like. Bernadette is extremely thankful for her experience as Aztec Recreation's Graphic Artist; "this is my first job related to graphic design, it has taught me so much about working with professional staff, as well as how to organize multiple projects at once. I have learned a lot about communication skills and a sense of professionalism from my work environment. Also, working through a constant workload has taught me to be adaptable and organized." Post-graduation, she hopes to find a career in Southern California working for a Graphic Design firm or as a Graphic Designer for a marketing team.
Thank you so much for all of your hard work and dedication, Bernadette. We are so lucky to have such a creative and driven employee!