Employee of the Month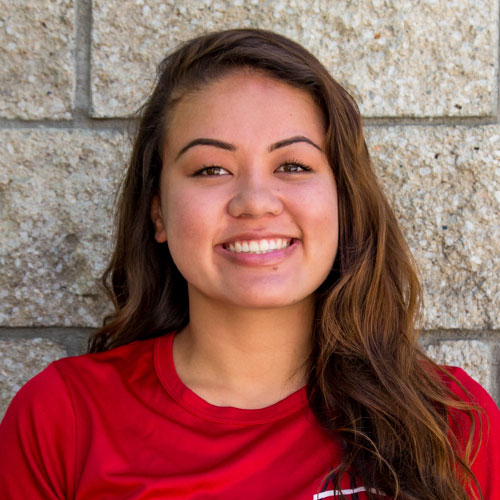 Hannah Baldridge
Member Services
This month Hannah Baldridge from Member Services is in the spotlight for her dedication, focus and hard work. Hannah started with Aztec Recreation as a freshman and in her year-and-a-half with the department has become a key asset to the team. Her supervisor, Katie Nelli, says, "Hannah is a great role model for all staff. She is fully engaged with members and peers and helps to promote a positive work environment by being a supportive team member".
A current psychology student, Hannah's plan is to get her masters and then Ph.D. in clinical psychology. She finds that working for Aztec Recreation Member Services has helped her build the foundation for professional skills that she will use in her career including customer service, communication, problem-solving and time management. "The hands on experience in customer service lets me practice interacting, engaging and managing customers," says Baldridge, "A skill which I will need as a psychologist. " In addition, she attributes her impressive time management and organizational skills to her experience as both a college student and an employee, "Being a student and working at the same time requires a lot of juggling; it's important to keep my school, work and social life organized to make sure nothing overlaps to help me succeed".
Regardless of her busy schedule, Hannah always lives by the quote "Always live your best life" to remind herself to have fun and make the most out of every situation. Moreover, according to her fellow staff, she does make it fun! Her favorite part about her job is working alongside her fellow co-workers and peers. Baldridge describes the Member Services team like a family, saying, "We have a really great staff and many are some of my closest friends."
One of her favorite aspects about working in the ARC is the self-improvement component. "I love the concept of working at a place where people are trying to better themselves," says Baldridge. She also notes that she feels proud about the bigger picture of working for Associated Students (A.S.) and how "A.S. provides a community for students to come together, make progress and improve. This job gave me a way to get involved and made the campus feel smaller and more inclusive."
We are fortunate to have such a well-rounded and ambitious employee here in Aztec Recreation. Congratulations Hannah!