Employee of the Month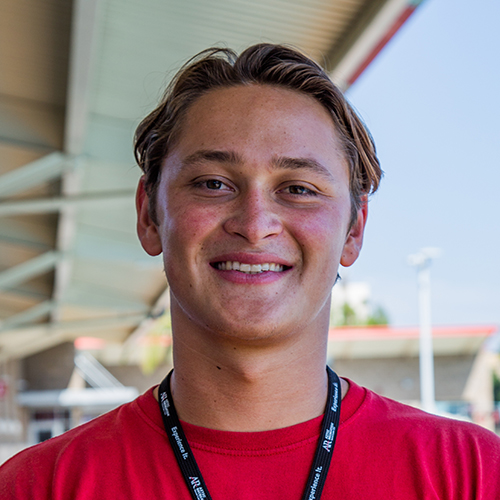 Niko Lopez
Aztec Aquaplex Lifeguard
Aztec Recreation is kicking off the 2018-2019 school year by introducing our September Employee of the Month, Niko Lopez! Back in 2016, Niko had been looking for a flexible, on-campus job when he decided to apply to be a lifeguard at our very own Aztec Aquaplex!
Nearly two years later, Niko has been an amazing asset to our Aztec Recreation family. Lopez is known for his positive attitude, kindness, and attention to detail, and is well liked by co-workers as well as members. According to Aquaplex Coordinator, Michelle Gable, "Niko is highly committed to customer service, always greeting patrons with a friendly smile and working to ensure his knowledge of facilities and operations is up-to-date."
His focus on communication and safety are the keys to Lopez being a standout lifeguard and leader on the team. "Niko is a very proactive lifeguard, always putting the team ahead of himself," says Gable. "Niko can often be found planning and communicating lifeguard rotations and breaks for his shifts upon arrival ahead of a supervisor doing so." Lopez also exhibits this proactive approach when it comes to holding himself and his fellow guards to the highest safety standards at the Aztec Aquaplex. Gable adds, "He is a very vocal, preventative lifeguard who enforces rules and displays a high level of professionalism." Each day, Lopez asks himself, "How can I do better?"--a life motto that constantly inspires him to work harder, get creative to make the most out of every opportunity and be 100% focused on the work at hand.
For Niko, his favorite aspect about his job is interacting and forming relationships with our diverse student and community members in the outdoor setting. An average day for Niko has the perfect mix of working both indoors and outdoors while being an adventure junkie and an outdoorsman. He is grateful for more time outside.
A current senior, Niko looks forward to a career in community-based non-profits after he graduates with his undergraduate degree in Communications with a minor in International Studies and Linguistics. Niko is confident that the level of professionalism as well as the attention to customer service working in Aztec Recreation has helped him develop will serve him well in his future.
Congratulations, Niko. Thank you for your outstanding contribution to Aztec Recreation!