Eight Dimensions of Wellness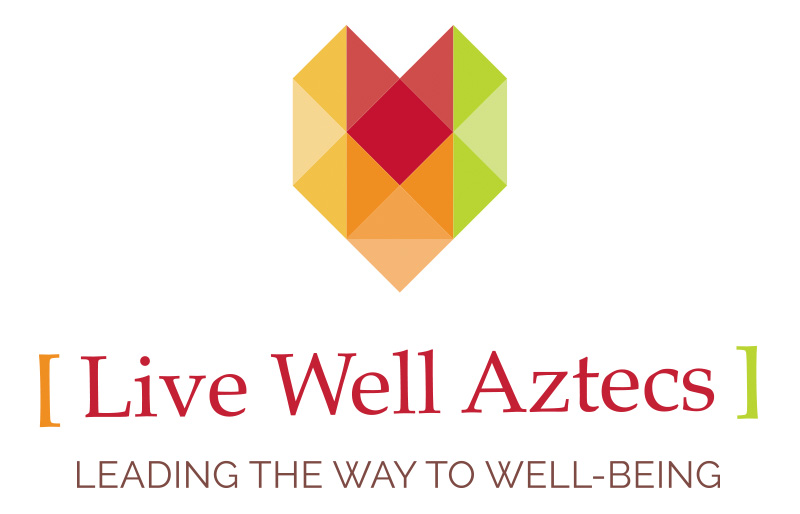 ---
Physical
Physical Caring for your body in order to stay healthy now and in the future; eating well and being active.
Don't have time to hit the gym? Take the stairs or walk around campus in between classes. Fit exercise into your schedule whenever you can. Grab your fitness tracker and take a walk around the beautiful SDSU campus! Check out SDSU Walking Loops (half mile and two mile walking loops).
Did you know that students who get 8+ hours of sleep have higher GPA's? Schedule your sleep just like you schedule class & social activities.
Get 20 minutes of sunlight each day. Visit the Aquaplex.
Get moving with friends! Build more physical activity into your daily routine. Try parking further away from your campus destination and take active study breaks.
Challenge yourself to try a new activity such as climbing at the ARC climbing wall.
Try filling half your plate with organic fruits & vegetables at most meals. Organic vegetables are good for your health and the environment. Schedule an appointment at Health Promotion to learn more healthy eating habits.
Variety is the spice of life. Involve yourself in a variety of activities to keep exercise interesting and challenging.
Use alternative forms of transportation such as the biking to school or work. Stay safe by wearing your helmet and following the rules of the road.
Carry a reusable water bottle with you to stay hydrated and reduce waste.
Be a kid again: play Intramural Sports dodgeball or kick ball and challenge yourself on the inflatable obstacle course at the Aquaplex!
---
Social
Maintaining healthy relationships; enjoying being with others; developing strong friendships and intimate relationships; caring about others and letting others care about you.
Learn more about "It's on Us" and how you can pledge a personal commitment to help keep women and men safe from sexual assault.
Make new friends on-campus and get active by joining a student org or sport club.
Volunteer and give back to the local community.
Turn off the TV, phone, or computer to personally connect with people.
Check out the SDSU calendar for up-to-date events and activities.
Meet new friends by signing up with a group or as a free agent for Intramural Sports.
Ask your RA about dorm floor activities to have fun while meeting other resident halls http://newscenter.sdsu.edu/housing/Default.aspx?
Meet your friends at Aztec Lanes between classes to bowl, play billiards or just hang out in the lounge to watch live sports.
Grab a friend and go to a concert at Viejas Arena or Cal Coast Credit Union Open Air Theatre.
---
Emotional
Managing your emotions in a constructive way; understanding and respecting your own feelings, values and attitudes; appreciating the feelings of others.
Stressed? Relax in Counseling and Psychological Services' massage chair in the Center for Well-Being for free!
Learn the signs of depression. It is the first step to getting help and supporting others. Call Counseling & Psychological Services at 594-5220 to learn more!
Stay optimistic and engage in positive self-talk.
Laugh every day.
Be mindful of your thoughts and feelings. Observe them, free of judgement.
Learn to communicate effectively to express your thoughts and feelings.
---
Occupational
Developing a sense of your strengths, skills, values and interests for your career; maintaining a balanced life between work, family, play and taking care of yourself.
Identify and focus on your strengths.
Challenge yourself to gain experience and learn more about your areas of growth.
Develop a network of professionals.
Make time for your hobbies. Having interests outside of work and school is important for decompressing.
Work on your public speaking and presentation skills through classes and clubs.
Join one of the many Associated Students boards and committees as part of your SDSU experience.
Seek an internship or connect with alumni in your field of interest through SDSU Career Services.
Find a job on campus through Aztec Shops Jobs, SDSU On-Campus Jobs or Associated Students Jobs
SDSU SDSU Career Services offers Fast 15-minute walk-ins for resume reviews and quick questions several days each week.
---
Multicultural
Being aware of your own cultural background and becoming knowledgeable about, respectful of, and sensitive to the culture of others.
Visit the Center for Intercultural Relations at the Aztec Student Union to find out how to get involved.
Volunteer to teach English at the American Language Institute to interact with students from around the world.
Attend the Martin Luther King parade and luncheon.
Join SDSU in celebrating the life of Cesar Chavez and recognize individuals striving to follow in his footstep by attending the Cesar Chavez luncheon in his honor.
Join the SDSU Pride Parade contingent through The Pride Center, serving SDSU's LGBTQ Community.
Explore the opportunity to study abroad and immerse yourself in another culture while earning credit towards your degree.
Take a course in the College of Arts and Letters to learn about other cultures through historical and contemporary perspectives.
---
Environmental
Awareness of how your behavior impacts the earth, as well as how the physical world impacts you; demonstrating a commitment to a healthy planet.
Stick to reusable glass or stainless steel water bottles for your health and the planet.
Eat local, eat seasonally, and eat organic. Support local farmers' markets, CSAs, and restaurants that serve seasonal organic foods from the farm to the table. Local organic foods have more nutrients and eating local reduces the pollution caused by transportation.
Recycle and compost. Plant a garden.
Clean green using natural or homemade cleaning products. It is better for you, your home, your pets, and the environment.
Look for opportunities to repurpose or share items you aren't using anymore instead of throwing them away.
Do your part to save water by taking short showers and turning off faucets while shaving or brushing your teeth. Use a bucket while warming up the shower and use the collected water to water plants.
Help keep our environment clean by volunteering for campus or beach clean- up days, including Associated Students campus community events throughout the year.
Experience SDSU GreenFest, a series of events and initiatives that encourage, celebrate, and advocate for sustainability, Aztec Pride, and diversity.
Attend the Green Lunch Bag Series, which provides an open forum for key people on campus to discuss and collaborate with one another about sustainability.
Find SDSU students to share rides through a ridesharing service or take the trolley from SDSU to your destination.
Get involved with the environmental and sustainable movement on campus by joining the Green Love or e3 student organizations.
---
Spiritual
Finding purpose, value and meaning in your life with or without organized religion.
Learn meditation or tai chi.
Take time to quietly reflect each day.
Find joy in everyday life.
Practice being in the moment with a walking meditation. Focus on the trees, the way the concrete path looks, the sounds we hear as they happen and the color of the sky. Seek out every detail, to live in the present, moment by moment.
Explore different religious and spiritual traditions. Learning more about different walks of faith can open our eyes to our connectedness with every person on the planet. Most religious and spiritual traditions agree on the fundamental principles of love, compassion, kindness and responsibility.
Take a course in Religious Studies to learn about different religious traditions and their history from inception to modern times.
Spend time outside to connect with nature.
---
Intellectual
Growing intellectually, maintaining a curiosity about all there is to learn; valuing life-long learning and responding positively to intellectual challenges.
Learn or practice a challenging new skill.
Read a classic or an intellectually stimulating book.
Attend a lecture or watch/listen to an educational show.
Learn a new language.
Join a book club to discuss and reflect your thoughts with others.
Find a quiet spot on campus where you can focus on studying, like Scripps Cottage, the Love Library, or Aztec Student Union courtyard.
Need some assistance? Get help at the Tutoring Center at the Library.
Like helping others? Share your knowledge and love for learning by tutoring others.