Group Fitness Class
Boxing Fitness
Class
---
Thursday, June 1
12pm - 12:45pm
Make a Reservation
---
Boxing Fitness


CLASS TYPE: Cardio/Strength
---
Get ready for a total body workout that will combine boxing techniques, heavy bag work, and more! Participants will learn boxing basics on the floor then take moves to the bag. Learn to execute a variety of heart pumping punches while gaining muscular endurance. This class does not require prior boxing experience.
---
More Boxing Fitness Group Fitness Classes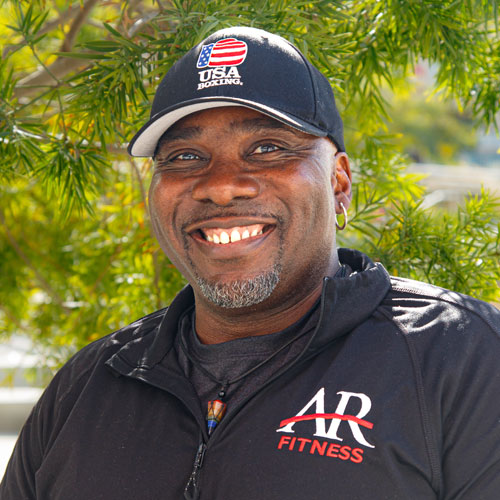 Sugar Ray Holden


Class Instructor
---
With over 28 years of experience as a USA certified Boxing Coach, Ray has trained a wide variety of students including UFC fighters, pro/amateur boxers, actors, children of all ages and seniors. He teaches progressive boxing techniques and strategies and also works as a boxing official and referee.
At the age of eight, "Sugar" Ray became interested in boxing. Along his journey in the sport, Ray had many great coaches and mentors including Martial Artist Wayne St. Hill, Master "Chicken" Gabriel, and former Team USA Olympic Boxing Coach Robert Coon (also Head Coach of the United Institute of Amateur Athletics Boxing Team where Ray became a member in his early teens).
As an instructor and avid boxing historian, Ray's main goal is to give back to the SDSU community through the experience in his boxing class using positive energy, and sharing his passion for the sport.
---
More Group Fitness Classes by Sugar Ray Holden